Lindsay's Frenzal Rhomb 70's SG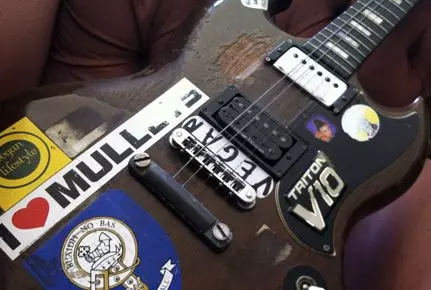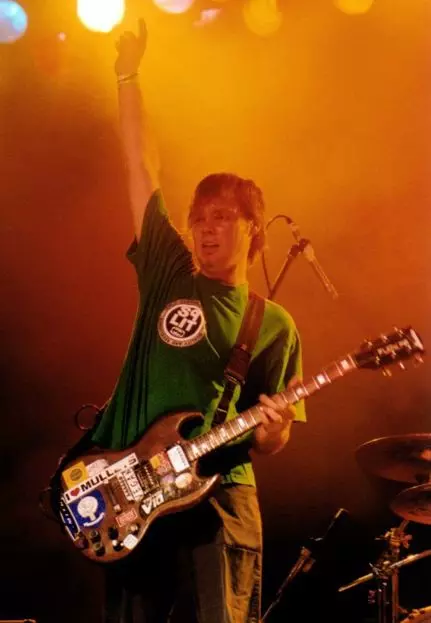 The neck is one of those fantastic 70's SG necks which I love. It's narrow with a V profile… not wide and skinny like the later 1980's '62 reissue I have. Plus with the ebony fretboard, this guitar plays (played) like a dream.The headstock sports the same 'custom' trussrod cover I've seen on a few 70's Gibson's, like Peter Mengede's 70's Les Paul. I'm not sure what exactly these truss rod covers mean, as this SG appears to be standard.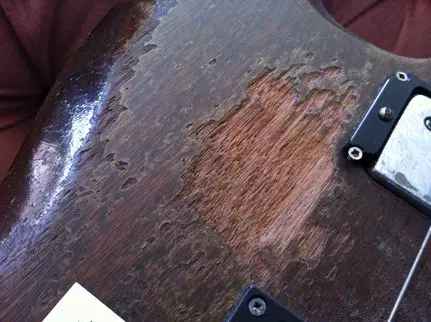 As I've mentioned, this guitar is heavily worn. The thin nitro finish has disappeared in chunks, so there's open mahogany everywhere (which isn't good for a guitar played in a sweaty punk band.) This also adds to the tuning instability this guitar now has.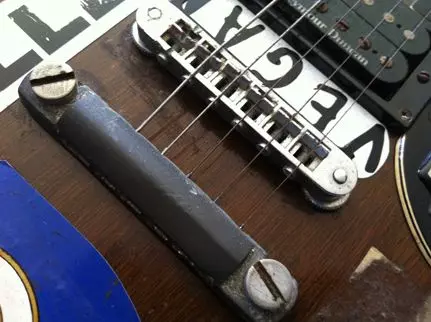 The SG still sports all the various stickers and warpaint from the Frenzal Rhomb days… my favourite being the ute badge on the pickguard. Can't get more Aussie than a Triton V10 (I know they're made in Japan… you know what I mean.)
The finish of the original stop tail piece is gone and turned a nice lead grey. The tune-o-matic is still shiny, and most definitely an aftermarket bridge. I think these 70's SG's had the square shaped bridges…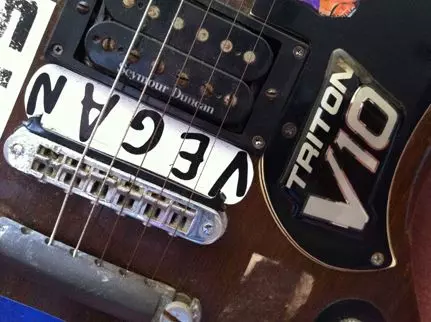 The back is surprisingly free of buckle rash… probably due to the stickers and the fact Lindsay doesn't tuck in his shirt onstage like a certain cane-punk band from Brisbane does.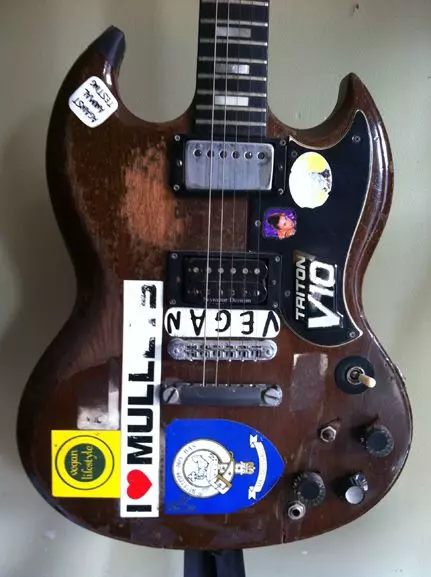 There's a major bit of damage around the input jack, where it looks like the guitar lead has been ripped out, taking a fair chunk of the SG's ass with it. Right angled jack's are a must have for front loaded guitars like this. I would've loved to have a play, but she was missing a string, plus the strings looked like they were the same ones from the last Frenzal gig she's played. A pity… that neck is just awesome.

Nowadays, Lindsay is playing a fairly new Gibson SG Faded. I think with a few dozen gigs under it's belt, she'll probably end up looking like her (much) older sister pretty soon.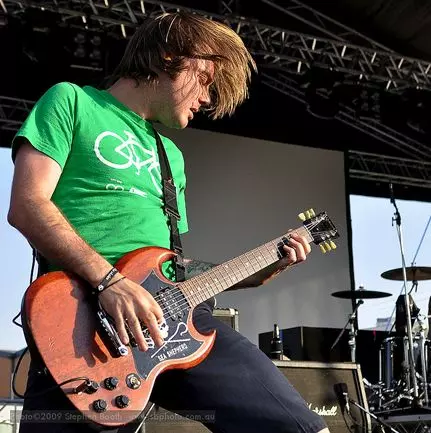 Eventually this GIBSON 70'S SG was sold on auction in 2021. Winning Bid: $5,500.00