Tom Crease on joining the Frenzal Rhomb
Fancy having your pants pulled down on stage, being head butted or knocked over by your vocalist and being gaffer taped to your mattress by your drummer after you've been drinking until 5am? It's all in a day's work for new boy Tom Crease, bass player from Frenzal Rhomb. The band are currently playing gigs in support of their new album Sans Souci. James O'Toole spoke to Tom on the phone before one of their frenetic Melbourne shows.

Can you start by telling us how you came to join Frenzal Rhomb?
I was actually playing in Adelaide with my old band and the rumours started to go around the crowd that Lex had left. I got a phone call from Jason, the vocalist, very late one night. I was up playing Nintendo and he said, "Mr Crease, it's time for a special news update," as he knew my dad was a news reader on Channel Nine in Adelaide. He suggested I come to Sydney for an audition so it wasn't too long before I saved up some bucks and went. We played about five songs that night, then went to the pub, got really drunk, had a rock drinking quiz-a-thon, then we took a walk back along King Street in Newtown at 5am like drunken idiots. I had a flight back to Adelaide at 8am that morning.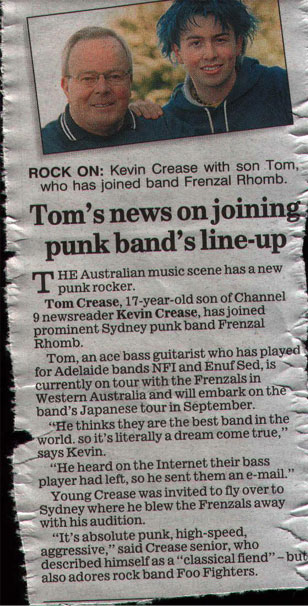 Were you a fan of the band before joining?
Yeah, I went to the shows and listened to the records and thought they were a pretty good band. I knew quite a few of the songs on bass because I had been playing bass a fair bit already by then. I've played guitar, bass and drums since I was nine or ten and played guitar in a couple of bands until I was about twelve.
What kind of bass guitar are you playing now?
I have a Music Man 4 string. I played a passive G & L bass on the album through an active box because it sounds really warm and punchy, but live the Music Man has some extra growl that cuts through any shitty mix. I owned one a couple of years ago but then I sold it to experiment with a few other basses. I got this Music Man just before The Big Day Out in January. I managed to get a really good deal through the music shop I worked in and they have really good pick ups in them so they sound great.
What do you use for your amp and cabinet setup?
I use an Eden World Tour 800, which is 400 watts a side. Usually when we tour around we get hooked up with an Ampeg 8 x 10 cabinet so I just use run one half of the amp. If we play in Adelaide where my speaker boxes are or if we have two Ampeg cabinets like at the Big Day Out I run the full rig. It was great fun playing the full rig in sound check through the big PA without having to play the set straight away.
Tell me about the Eden...
They're made in America. I suppose they're only becoming more popular recently, with funk and jazz more so than rock players. I guess the standard is Ampeg, but the Eden sounds really punchy and they're good for that bright, sparkly kind of sound. It's a hybrid amp with a tube input stage then half of the power amp is solid state.
Are you a pick or finger player?
I play with a pick for all of the new songs except for one and for the old songs I just do whatever the old bass player did, whether it is slapping or fingers and slapping, but mostly I play with a pick.
So how did the song writing go for Sans Souci?
We had an eight track at Jay's house and just started recording things on it every day and every night. We'd get Gordy up from Melbourne and get basic guitar tracks down for four or five songs, go to the rehearsal room and Gordy would put down drum tracks. Then we'd record bass, guitar and vocals, until we had a CD of five or six songs together. We would churn out a CD of five or six songs every three to four weeks for a couple of months. When we went on tour in Europe we took it all to show to Fat Mike from NOFX as we release through Fat Records over there and he would say, 'Yeah that's good, that's shit, or change that,' or whatever. He's pretty honest about that sort of thing which is cool.
Since you've been in the band where would you say is the most unusual place you've played?
I can't decide whether to say Haifa, Israel or Kalgoorlie, Western Australia (laughs). Playing in Israel was pretty far out, because it was like, 'Wow, we're in the Middle East playing a punk rock show.'
Who would be the wildest band you've played with or toured with?
This would be the wildest band I've played with. Absolutely. It's pretty ridiculous. They'll push you to your limits until you've gone past being on the floor in the corner crying in the dark to the point where you actually begin to laugh at your own shame and misfortune. It's a terrible thing. I've wanted to quit the band three times on tour because they have just driven me past my limits. You know like you'll be drunk in Japan at four o'clock in the morning and it's freezing cold, you're loading stuff down the fire escape and Gordy keeps bashing you in the head with things and throwing cigarettes at you. Then you get in the Tarago and he'll bash you over the head with the back of the seat and try to strangle you. He'll gaffer tape you to your mattress then come in and piss on your suitcase. You wake up outside the hotel in Western Australia taped to a mattress covered in alcohol. So I would say this is the wildest band I've played with, yeah.